THE DIGITAL MARKETING SPECIALIST NETWORK

RERP is an online marketing & Google Ads Agency that assists you in your digital communication strategy. Our experience and involvement allow us to stay one step ahead to manage and optimize your marketing investments. Initially Google Ads Agency, RERP works also now in others sources like Facebook Ads, YouTube, Microsoft Advertising and manage the creation of responsive websites, applications, landing pages, banners.
Managed Ad Spend last 12 Months
Proud To Be A Google Partner Premier Agency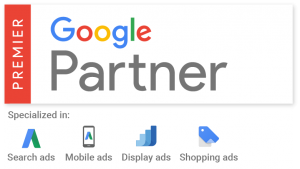 Google Partners are online marketing companies, trusted by Google.
The badge recognizes companies that excel with Google's products. Their businesses are healthy, their customers are happy, and they use Google best practices. You know your business—Google Partners know the web. Let a certified expert manage your online marketing so you can focus on running your business. Partners stay up to date on the latest Google tools and products by passing Google-administered certification exams every 12 months. Proven success is what puts Partners above the rest. They use industry best practices to manage campaigns and focus on helping you get the most out of your marketing budget. Partners stay ahead of the curve by working directly with Google. With access to trainings and product updates, Partners stay on top of what's going on with Google.
A Cross-Channel Strategy

To increase your sales opportunities, accompanying the consumer throughout the different stages of the buying cycle, RERP allows you to be present on multiple distribution and information channels simultaneously. A simple way to look at the buying cycle is to break into three stages: Awareness, Consideration and Purchase. The Google Ads Agency RERP will accompany you on Search Networks like Google, Yahoo, MSN and Bing, the Display Network, Google Shopping, Facebook and YouTube while communicating you with comprehensive analysis reports to help you improve your strategy. Google Ads Agency, but also Full-Service Agency, RERP has always been in the business of cross-channel, multi-touch marketing.
This huge assortment of Marketing Channels means that your potential customers could be anywhere – and you need to be where they are.
OUR STRENGTHS

Reactivity
Our team will handle all your requests under 24 hours.
Efficiency
The key metric we work on at RERP is your ROI.
Experience
All our digital marketing experts are certified and 10 years experience.
Consulting
We help you achieve on your digital goals with the best practices
GET A FREE GOOGLE ADS EVALUATION
Discover How You Can Increase Your Google Ads Performance with the help of a Google Ads Agency READY TO BOOST SALES & ROI ?
Don't waste your time ! Let a Trusted Google Partner manage your Pay Per Click Advertising (PPC)!